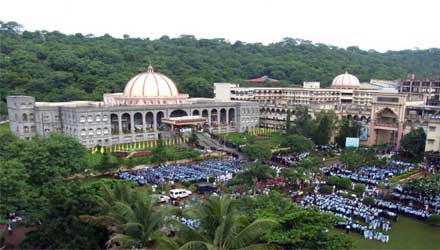 About
MITSDE
MITSDE is built on a culture of collaboration, ambition, innovative thinking & the desire to create change in higher education. This culture drives every member of our team & permeates every endeavor we pursue. We believe that there is an ideal learning experience. MITSDE offers Diploma, Post Graduate Diploma and PGDBA courses in the fields such as Marketing Management, Finance, HR, Operations, Information Technology, Supply Chain Management, Risk and Insurance Management, Fire and Safety Management, Retail Management, Material Management and more.
Best in class Distance MBA in Pune offered by MIT-SDE
The city of Pune which is colloquially known as the Oxford of East is Maharashtras cultural capital. Pune is regarded as one of the safest city of India where one can live with ease of mind. It is both an industrial hub as well as an educational hub.
The city houses top colleges, institutes, and universities that attract students from all over the world. That is why the name Oxford of the East holds apt for this city. An array of industries such as Finolex Industries Ltd, Kalyani Steels Ltd, Bajaj Auto Ltd and many more are operating in Pune and giving employment opportunities to millions of people. This city houses headquarters of brands such as Volkswagen, Mercedes-Benz India, Cybage, Quick Heal, etc
How to capture opportunities in Pune?
Definitely, Pune is burgeoning with opportunities for the skilled candidates. However, the city is equally rich in terms of talent. That is why cutthroat competition prevails in Pune. The only way for the candidates to capitalise on these opportunities and edge the competition is by exhibiting skills and sound educational background. Pursuing a graduate course is not sufficient to impress the recruiters but the candidates must possess exceptional skills and talent to be visible among the employers.
Today, most of the companies give preference to practical knowledge of a candidate rather than his theoretical knowledge. In such a scenario, pursuing skill development courses is the need of the hour. However, most of the individuals find it difficult to pursue postgraduation or skill development courses along with regular job. Often people succumb to financial difficulty, professional commitment and personal problem and can't pursue higher education.
Distance MBA to enhance one's employability
For drop outs, various universities and institutes offer Distance Education courses. There are different courses that are available through distance learning mode and the most popular of them is distance MBA. It is believed that distance MBA empowers a candidate to capture managerial position and it even enhances the chances of promotions in the existing job. However, candidates should choose reputed colleges for distance MBA course.
Looking for the finest distance learning college in India? If so, then you should choose MIT School of Distance Education (MIT-SDE).
MIT-SDE distance education courses
MIT-SDE is a component of MIT Group, a pioneer educational body in Maharashtra. It offers MBA-equivalent course spanned across periods of 12-months, 18-months and 24-months. Currently, it offers Post Graduate Diploma in Management (PGDM), Post Graduate Diploma in Business Administration (PGDBA) and Post Graduate Certificate in Management (PGCM). These courses can be pursued in various specialisations such as Marketing, Finance, Material Management, HR, IT and many more.
If you are looking to pursue the best distance MBA in Pune, then you must pursue MIT-SDE's courses. The courses are totally relevant to the present scenario as the syllabus is updated from time to time. The study material is a mix of theoretical and practical learnings. It is prepared by industry experts and published by Wiley Publications. The study material includes self-explanatory video lectures, modules and physical books. MIT-SDEs courses don't restrict one's knowledge to a single constraint, rather these give candidates a better understanding of the field of management as well as enhance leadership skills.
So, apply for admissions at MIT-SDE and enhance your employability skills.
Distance Management Courses at MITSDE